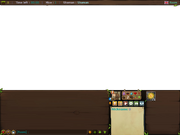 In the game of Transformice, the user is presented with a large GUI that has a variety of functions.
Information bar
Edit
The information bar is positioned at the top of the room and informs you of:
the current map's #, and creator (if community-made)
the time left to complete the map
the amount of mice in the room
who the current shaman is
which room you are in
Time left is useful in maps that have something happen at specific times, e.g. in map 81, the time counter helps the mice and the shaman because at 01:50, the gravity reverses. This gives the mice and the shaman the knowledge of when the gravity will be reversed and how much time they have left to build a shelter or die.
Bottom bar
Edit
The bottom bar houses a number of other features, listed below.
Chat box
Edit

Main article:
Chat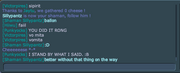 The chat box is the most active part of the bottom bar. Not only can registered users communicate with each other in this window, but it also displays various game information.
Players list
Edit
"Points" redirects here. For experience points, see Experience.
"Points" redirects here. For skill points, see Skill.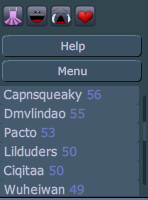 Next to the chat box, you'll find a list of people currently playing in your room as well as their current overall scores.
Generally speaking, the people at the top of the list will be next to be the shaman, but there are occasions where people continue to gain points without becoming the shaman. It also seems random whether or not the next map will have two shaman or not regardless of how close the top scores are.
A table of how many points mice gain after each round can be found here.
Leaderboard
Edit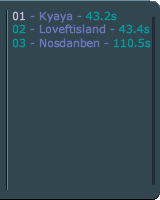 The leaderboard shows the order the mice that completed the level (obtaining the cheese and proceeded to the hole) finished in and which places they had been in. It is similar to the now removed rankings tab.
Button dialogs
Edit
As mentioned above, there are also buttons above the player list. These buttons do a number of things.



By clicking the shaman feather to the right of the animation buttons, a dialog box opens, allowing you to turn Hard mode or Divine mode on/off, and configuring your totem. This feature is only available to players that have over 1,000 saves.
The Menu button opens up into a number of options.
| Name | Description | Guest |
| --- | --- | --- |
| Menu | Displays clickable images leading to tutorial, vanilla, survivor, tribe house, bootcamp, racing, shop and map editor. | |
| Shop | You can purchase cute accessories for your mouse in this window such as hats, neckwear, or even a spiffy moustache. | |
| Inventory | You can see a list of consumables you have received. | |
| Map Editor | The Map Editor is a feature that lets you create your own map. | |
| Skills | Lets distribute skill points and see your level, experience. | |
| Training | Changes to room "Training [nickname]". | |
| Email and password | Lets validate email. | |
| More cheese | Displays referring information. | |
| Other games | Displays a list of other games created by Atelier 801. (Only Fortoresse, Bouboum and Nekodancer.) | |