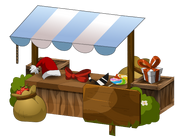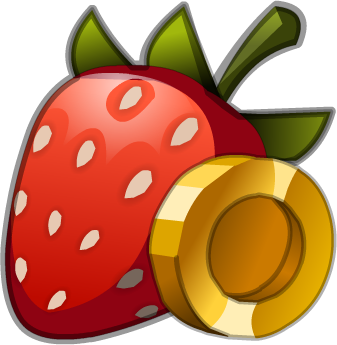 The shop is a selection that is available from the

menu dropdown. The currencies are

cheese and

fraises, with the exception of certain holiday currencies such as

hearts,

eggs,

presents, or

fishbowls.
Titles can be earned from obtaining items, whether it is from completing event maps, purchasing items in the shop, or a combination of the two. They range from the "Nice Mouse" title, given after obtaining one item, to the "SuperStar" title, given after obtaining 50 items, after purchasing a 51st item, you will obtain the "Nice Mouse ★" Title.
Most items can be customized, which allows you to change the color of items. If customization is available for an item, unlocking it costs 2,000 cheese, or 20 fraises for regular clothing items, 4,000 cheese or 150 fraises for a shaman item skin.
Customization was added an update in 2012 alongside the release of fraise. Before this update, no customization on items was possible, and all items had to be redrawn before this update to be customizable.[1] Having both red and green light-sabers (which are the same except for color) is a byproduct of this early constraint.
It is possible to gift shop items (including furs) to a someone on Transformice. This does not work on items you've purchased for yourself (therefore meaning you cannot use gifting as means to "discard" items), and only works with items purchasable with Fraises. You need to have spent at least 30 hours on the game (previously 10), gathered 700 cheese and have registered your email.[1] If a user who has gifted you is banned for fraud payment, the items which a user has gifted you will be removed.

You can make up to 20 preset

outfits in the shop to quickly change between designs. This feature was added by community request on 29 September 2013 (V1.107).[2]
The Fashion Squad
Edit
The Fashion Squad finds community made pre-arranged outfits that may also be purchased from the shop as of V1.330[2]. These pre-made outfits will only be available for a limited time before they are replaced with new ones. You won't be charged for outfit pieces you already own, and some discounts will be given for purchasing the whole outfit.
Fashion squad outfits can't contain cheese-only items.[3]
Dressing rooms
Edit
It is possible to try out / take picture of different styles for your mouse out-of-game by using unofficial dressing rooms:
You can click the image to enlarge it. If images don't appear, try scrolling up/down.
Cheese per Fraise (

) shows how much cheese each fraise is worth for that item. A higher cheese-per-fraise means a better deal when buying an item with fraise (since each Fraise it "worth more").
The number on the "ID" column can be found by using the "/infoshop" chat command. IDs are unique identifiers for that category. IDs are usually indicative of the order items were added to the game.