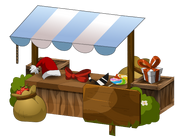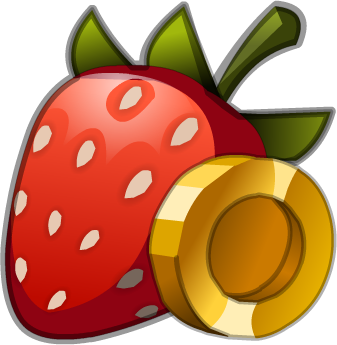 The shop is a selection that is available from the

menu dropdown. The currencies are

cheese and

fraises, with the exception of certain holiday currencies such as

hearts,

eggs,

presents, or

fishbowls.
Titles can be earned from obtaining items, whether it is from completing event maps, purchasing items in the shop, or a combination of the two. They range from the "Nice Mouse" title, given after obtaining one item, to the "SuperStar" title, given after obtaining 50 items, after purchasing a 51st item, you will obtain the "Nice Mouse ★" Title.
Customization
Edit
Most items can be customized, which allows you to change the color of items. If customization is available for an item, unlocking it costs 2,000 cheese, or 20 fraises for regular clothing items, 4,000 cheese or 150 fraises for a shaman item skin.
Customization was added an update in 2012 alongside the release of fraise. Before this update, no customization on items was possible, and all items had to be redrawn before this update to be customizable.[1] Having both red and green light-sabers (which are the same except for color) is a byproduct of this early constraint.
The Fashion Squad
Edit
The Fashion Squad finds community made pre-arranged outfits that may also be purchased from the shop as of V1.330[3]. These pre-made outfits will only be available for a limited time before they a
This section is a stub. Please help expand it.ItemsLes éléments de collection sont des éléments disponibles pour une durée limitée, avant de redevenir indisponibles. Ceci est destiné à rendre les articles plus précieux. Certains objets de collection peuvent être disponibles lors d'un événement et redevenir disponibles dans le même événement l'année suivante. [4]
There used to be a "Collector" tab but it was removed.
There have been complains about the feature being frustrating[5], and it was found that the feature did not increase the likelihood of people buying the items,[6] which eventually led to the collector system being removed. however it was later added again.
Pricing for collectors items worked as follows: the first week they were listed as collector items, they were available to buy for cheese and fraise, the second week they would be only be available to buy for fraise.[4]
Changelog
Edit
Dressing rooms
Edit
It is possible to try out / take picture of different styles for your mouse out-of-game by using unofficial dressing rooms:
You can click the image to enlarge it. If images don't appear, try scrolling up/down.
Cheese per Fraise (

) shows how much cheese each fraise is worth for that item. A higher cheese-per-fraise means a better deal when buying an item with fraises (since each fraise is "worth more").
The number on the "ID" column can be found by using the "/infoshop" chat command. IDs are unique identifiers for that category. IDs are usually indicative of the order items were added to the game.