"
In racing rooms you have to bring the cheese to the mouse hole as fast as possible. Each round lasts one minute instead of two.
"
― Transformice's in-game description of Racing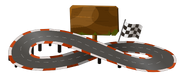 Racing is a game mode. There are no shamans in racing maps.
Like the name implies, mice in the room race to be the quickest to finish the map. Only racing maps will be played in racing rooms, and mice must complete maps alone without the help of any shaman.
When you're the first one to enter the hole in racing rooms, your first stat increases like normal.
Unlike other game modes, racing rooms only have 1 minute time given instead of 2 minutes. Like normal, if there are less than three mice alive, the timer will automatically be set to 20 seconds if the timer is above 20 seconds.
Due to the fact that there is no shaman, the players should be experienced before playing in racing rooms, since almost all racing maps require mouse techniques (wall jump, corner jump, turn-around, etc.).
A racing game consists of 10 rounds, where mice compete to get highest score. The room then will announce the name of the mouse with highest score at the end of round 10: "<Player Name> wins the game!"
Score calculations are as follows:
Death/Time-out: +0
Bringing cheese into hole: +1
First place: +3 Bonus
Second place: +2 Bonus
Third place: +1 Bonus
Completing a map will increases the player's stats and shop cheese, and gives 20 experience points.
Racing also gives badges as reward.
| Image | Obtaining | Release Date |
| --- | --- | --- |
| | Play 1500 Rounds of Racing. | 26 March 2015 |
| | Complete 10000 Rounds of Racing. | 26 March 2015 |
| | Get 1st, 2nd, or 3rd positions 10000 times. | 26 March 2015 |
| | Obtain 10000 Firsts. | 26 March 2015 |
Flag Coins
Edit

After an update in 2016, it became possible to earn Flag Coins in racing rooms to spend in a village room. One coin is earned for every 5 rounds completed. Flag coins were originally traded with the Indiana Mouse NPC, but was later changed to Buffy.
The mouse with the current high-score will have wings beside their nickname.
Scores are only updated when mice enter the hole and at the end of every round, so during round 1, the winner of the last game will still have the wings.
Racing room gallery
Edit
References
Edit
Ad blocker interference detected!
Wikia is a free-to-use site that makes money from advertising. We have a modified experience for viewers using ad blockers

Wikia is not accessible if you've made further modifications. Remove the custom ad blocker rule(s) and the page will load as expected.