Introduction
Edit
The Fishing 2015 Event started on 3 June 2015, after the Easter 2015 and Children's Day 2015 events.
Event Maps
Edit
This event contains multiple maps. The event maps appear in normal and vanilla rooms at random intervals.
Fishing Maps
Edit
The fishing maps have some fishing ponds on the map. To fish, press S/↓ near one of the ponds. You can either catch Consumables, a cheese or a treasure chest, which is rewarded to you at the end of the round. All mice are dressed as Indiana Mice for this map.
However, there will be several traps that will kill any mouse that gets hit, so players should be careful.
Boat Map
Edit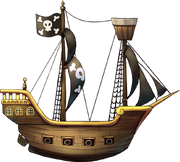 This map is from an earlier Fishing Event. Mice will pick up cheese at the spawn point, and need to cross the ocean in the pirate ship in order to reach the opposite side of the map, where the hole is located.
However, thunderstorms will strike and makes the boat unstable. Next storm will calm the boat down. This will happen multiple times in one round.
This map displays the player's artifacts they have caught in the fishing maps. The mice don't have anything to do other than wait for the map to pass.
New

| Icon | How to Obtain |
| --- | --- |
| | Recover all pieces of the dinosaur skeleton in the museum. |
| | Recover all of the museum objects. |
Old

| Icon | How to Obtain |
| --- | --- |
| | Recover all pieces of the Shameow statue in the museum. |
| | Recover the fishing 2012 picture frame in the museum. |
| | Recover all pieces of the cupid mouse in the museum. |
Consumables
Edit

Main article:
Consumables
New / Event-specific

| Icon | Name |
| --- | --- |
| | Selfie Stick |
| | Indiana Mouse |
| | Fish |
| | Yellow Firework |
| | Pufferfish |
| | Cheese Tag |
Other

| Icon | Name |
| --- | --- |
| | Blue Firework |
| | Pink Firework |
Fishing map require at least 5 mice and at most 40[confirm] mice, otherwise it won't appear. If it appears, it won't be working (can't catch anything and traps won't appear)
In extreme cases, the boat in boat map will spin upside down or even spin 360 degrees.

Bug
Sometimes the @1 map's boat can sink from lag
Before this event, Yellow Fireworks were only available to new players.
The traps and death animations are from the game Mouton.
Despite being called Crystal Jungle, this map more closely resembles an underwater cavern. Some players prefer to call it Crystal Cove or Crystal Cave.
References
Edit
Events
2018 adventures
February
March–May
June
2017 adventures
January
February
March + April
May + June + July
August–November
December
2016 adventures
January
February
March
April
May
Summer (June–August)
September–November
December
Traditional events
Main events
National holidays
Other events