The enigma of the Fishing 2013 event rewards the title « Adorer »(299).
The Solution
Edit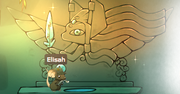 Reshuffle the letters in the enigma piece to "Elisah", the name of the Transformice Deity.
You are required to wear the Fisherman's Hat and the Fish Bone (Mouth Item)
Stand close to the sculptured figure of Elisah and say "Elisah"