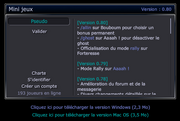 Extinction.fr is an old website created by Tigrounette before he started working on Transformice.
It is fully in French. There are no other translations available like there are in other w:c:Atelier801:Atelier 801 games.
It is still online to this day, and still has a handful of players on at almost all times.
Games of Extinction
Edit
The site has three games: Aaaah!, Forteresse, and Bouboum.
Aaaah! is the first ancestor of Transformice. In Aaaah! you could play as stick figures and your goal was to reach a nursery that is (most of the time) at the top of the map.
Duplicate Accounts
Edit
On September 10, 2013, accounts from Extinction were made to work along with other Atelier 801 games. With this, came a problem with duplicate accounts; users from Extinction and other Atelier 801 games were separated before, and when they were unseparated, there were already accounts between Extinction and other Atelier 801 games with the same usernames. Atelier 801 solved this conflict by adding a "+" sign to duplicate account usernames created on the Extinction site. It is no longer possible to create an account with a "+" sign in it, but accounts created during that time still have the "+" sign at the beginning of their username.
Ad blocker interference detected!
Wikia is a free-to-use site that makes money from advertising. We have a modified experience for viewers using ad blockers

Wikia is not accessible if you've made further modifications. Remove the custom ad blocker rule(s) and the page will load as expected.