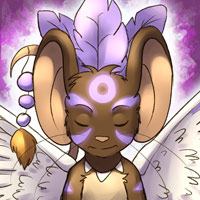 Divine mode is a shaman mode released on 26 May, 2014, in V1.159[1][2]. After saving at least 5,000 mice in Normal mode or Hard Mode, where at least 2,000 of those saves were earned in Hard mode, this mode will be unlocked.
One has to restart Transformice to unlock this mode when one has reached the required amount of saves.
Divine mode was created for mice who are smart, creative, and aware of how the physics work in the game. In Divine mode, you are able to spawn your available objects almost anywhere on a map without having to move due to a very large range. However, you are not able to use the B or C nails, spirit, clouds (if the Cloud skill is enabled), or your totem.
To enable Divine mode, click the blue and yellow feather next to the wrench icon and select Divine mode. Each Divine mode save is counted as a Divine mode save and a Normal mode save, like each Hard mode save is counted as both a Hard mode save and a Normal mode save.
The range of a Divine mode
shaman
is about 480 pixels wide but can be increased even further by activating the
Eagle Eye
skill found in the Mechanician skill set.
Constraints
Edit
Sometimes, often upon logging in or changing room, one might start off with 3 springs and unlimited uses of Chief's Food.[citation needed]
External Links
Edit
References
Edit
Ad blocker interference detected!
Wikia is a free-to-use site that makes money from advertising. We have a modified experience for viewers using ad blockers

Wikia is not accessible if you've made further modifications. Remove the custom ad blocker rule(s) and the page will load as expected.