The
Christmas 2012
event was released in
V1.56
, on 1 December 2012.
Event details
Edit
This event featured many changes, some of them new, for example a map with an Advent Calendar, but others already known by the users, like gifts in vanilla maps.
On the side of visual changes, the grounds skins changed again to the ones that have been seen in the 2011 Christmas event, also, the shaman objects changed too. The occasional snowing was another feature reintroduced in this event.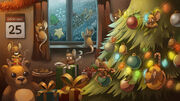 The event map, map 560, featured a new way of getting cheese/fraises/items; the advent calendar.
In order to get the items in the advent calendar, players had to login each day, wait for the event map to play, then find the number on the map which was the same as the current date. For example; if it was December 4th, players would have to click on the mouse looking through the window [confirm].
Here is a list of what you could get by clicking the calendar.
1
2
3
4
5
6
7
20 cheese
5 fraises
Chocolate bar
20 cheese
Bell Scarf
5 fraises
20 cheese
8
9
10
11
12
13
14
Icicle earrings
5 fraises
20 cheese
Free forum avatars
20 cheese
5 fraises
20 cheese
15
16
17
18
19
20
21
Ice cube item
5 fraises
20 cheese
Free wallpapers
Tree & Gingerbread
20 cheese
5 & Reindeer Antlers
22
23
24
25
/
Star tail item
20 cheese
Tan fur color /
50 Fraises
20 fraises
A new fur and four new items (the chocolate bar for the mouth, the icicle earrings, a gingerbread cookie and a star tail item) were added. The chocolate bar could be unlocked in the map of the event, the fur, was obviously not. All the items of the previous events could be unlocked too.
New items

| Image | Name | Type |
| --- | --- | --- |
| | Chocolate Bar | Mouth |
| | Icicle Earring | Ear |
| | Gingerbread Man | Mouth |
| | Star | Tail |
| | Snow Fur | Fur |
References
Edit
Events
2018 adventures
February
March–May
June
2017 adventures
January
February
March + April
May + June + July
August–November
December
2016 adventures
January
February
March
April
May
Summer (June–August)
September–November
December
Traditional events
Main events
National holidays
Other events