Cartouches[1][2] (more commonly known as orbs/shaman orbs) are the different vectorized illustrations behind a shaman's skill points. 

The amount of skill points shown on top of a players cartouche does not denote total skill points, but rather the amount that has been allocated. For example, if one were to be level 100, but only have 50 skill points allocated, the cartouche would display the number 50, not 100.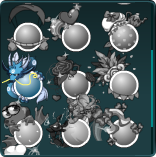 These come in two types:
Default - Default shaman cartouches are determined by the skill with the most points spent. For example, a mechanician shaman will have a cog/gear cartouche while a physicist shaman will have plasma balls forming an electric current. These were first introduced with the addition of Skill Trees.
Collectible - These cartouches are obtained via events. Once obtained, they are permanent, and can be chosen on one's profile page. To revert to default, one can simply click the first  plain orb. These were introduced with the Christmas 2015 event.[3]
Default Cartouches
Edit
| ID | Image | Description | Skill Tree | Release Date |
| --- | --- | --- | --- | --- |
| 0 | | Default cartouche if no skill points are allocated. | ∅ | 28 June 2013 |
| ∅ | | The default spiritual guide cartouche. | Spiritual Guide | 28 June 2013 |
| ∅ | | The default wind master cartouche. | Wind Master | 28 June 2013 |
| ∅ | | The default mechanician cartouche. | Mechanician | 28 June 2013 |
| ∅ | | The default wildling cartouche. | Wildling | 21 February 2015 |
| ∅ | | The default physicist cartouche. | Physicist | 21 February 2015 |
These cartouches are purchasable in the village via special currencies, and were first introduced in "content adventures" (adventure where content added is never removed).
Collectible Cartouches
Edit
Only available during specific events / adventures.
The "blue dragon"-themed cartouche was created by Christouffe. Melibellule stated that it is the most astonishing cartouche she has ever integrated.[4][5]
Originally, the Racing 2016 content adventure only provided players with one cartouche that was composed of a trophy, checkered flag, and laurel. However, three days later, the cartouche was split into three portions, possibly to prevent clutter and allow for more prizes.
For non-default cartouches, these are referred to as "Macaron"s instead of Cartouches in the game files.
References
Edit
Ad blocker interference detected!
Wikia is a free-to-use site that makes money from advertising. We have a modified experience for viewers using ad blockers

Wikia is not accessible if you've made further modifications. Remove the custom ad blocker rule(s) and the page will load as expected.