New Items
Edit
| Image | Name | Type |
| --- | --- | --- |
| | | Head |
| | | Head |
| | Carnival Mask | Eyes |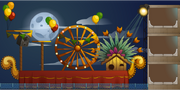 Mice would be placed on map 555, where they had to throw confetti 5 times by pressing E to unlock one of the three items. The map has been removed, but mice are still able to throw confetti by pressing E.
References
Edit
External links
Edit
Events
2017 Adventures
January
February
March + April
May + June + July
August - October
2016 Adventures
January
February
March
April
May
Summer (June-August)
September-November
December
Traditional Events
Main Events
National Holidays
Ad blocker interference detected!
Wikia is a free-to-use site that makes money from advertising. We have a modified experience for viewers using ad blockers

Wikia is not accessible if you've made further modifications. Remove the custom ad blocker rule(s) and the page will load as expected.