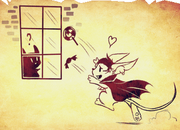 Buffy's residence is a location in Kürbisses-Nacht. Buffy formerly lived here before moving into Archain von Drekkemaus's manor. During Halloween 2014, Archain von Drekkemaus was trying to surprise Buffy by throwing some sweet candy at her window, however Buffy was angry instead. The residence is made of bricks, as bricks are seen around the window.
Ad blocker interference detected!
Wikia is a free-to-use site that makes money from advertising. We have a modified experience for viewers using ad blockers

Wikia is not accessible if you've made further modifications. Remove the custom ad blocker rule(s) and the page will load as expected.